______________________________
I just want to share info about the history of the independence of the Republic of Indonesia which was
never published or taught in schools
, namely about support for Indonesia's independence by the Arab states. Soekarno and Hatta could proclaim Indonesia's de facto independence on August 17, 1945, but keep in mind that to stand up (de jure) as a sovereign country,
Indonesia needs recognition from other nations
. At this point we aided by recognition of figures Middle East leaders, so that Indonesia could be a sovereign state.
Even some Ulama in Egypt and the Arab World formed
"Lajnatud Difa'i'an Indonesia"
(Indonesian Defence Committee)
by their own initiative. The agency declared on October 16, 1945 at the Islamic Youth Center Building Society with
Gen. Saleh Harb Pasha
as head of the meeting.
In this photo: "Indonesian Defence Committee" consisting of the chiefs of Egypt, Arab, and Islam. In the middle is
Sutan Syahrir,
in his right Gen. Saleh Harb Pasha (Chairman),
Hassan Al-Banna and in his left Sheikh A. Latif Diraz , Dr. M. Salahuddin Pasha, Dr. A. Wahab Azzam Pasha, and stand behind Sutan Syahrir is Ahmad Hussein, and M. Salim and several Central Committee leadership.
The strong support of the Egyptian people for the independence of Indonesia, due the insistence and lobbying the leaders of Al-Ikhwan Al-Moslem, that made the Egyptian government recognizes the government of Indonesia's sovereignty over Indonesia on March 22, 1946.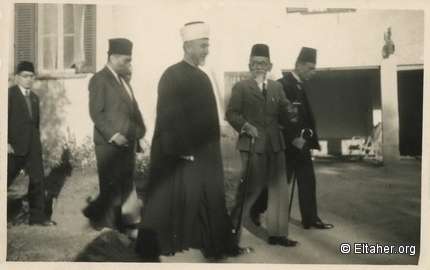 In this photo: Haj Amin Al-Husseini (third man from right), Mufti of Palestine with the Indonesian Foreign MinisterHaj Agus Salim (second man from right), Eltaher (on the right end) and others in Cairo in 1946.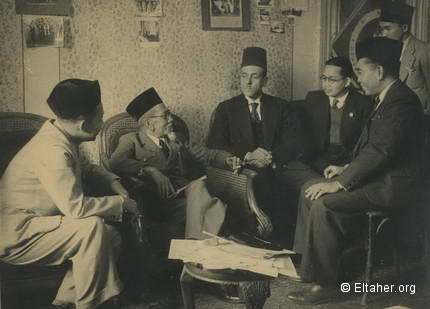 In this photo: The first official Indonesian delegation following the independence of Indonesia and the declaration of the republic arrived in Egypt during the summer of 1946. The delegation was headed by Haji Agus Salim (the second man from left), first Indonesian Deputy Prime Minister and Minister of Foreign Affairs, and held a meeting with Eltaher at "Dar Ashoura" in Cairo.
After that, officially the Arab League Council's decision dated 18 November 1946 recommended to all member states of the Arab League to recognize Indonesia as a sovereign independent state.
In this photo: Grand Mufti of Palestine M. Amin Husaini, (with turban) and Mohammad Ali Taher, the Palestinian leader (on his left) along with Central Committee, after he was able to escape to Cairo from the arrest of Allies in Europe and got protection of King Faruk.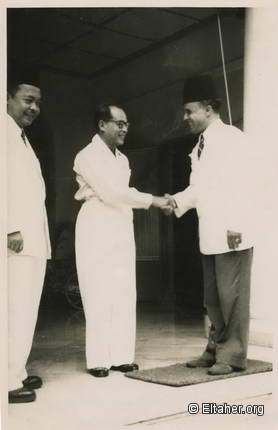 In this photo: From right to left; The tunisian nationalist Habib Bourguiba bidding farewell to Mohamed Hatta, Vice President of Indonesia. Standing on the left is Mohamed Rashidi, Ambassador of Indonesia to Egypt. Picture taken at the entrance to the Indonesian embassy in Cairo on April 15, 1951.
In this photo: Egypt perpetuate the name of the street, Ahmed Sokarno St., Who headed the city center and cultural center in Tahrir Square. Morocco also made ​​a name streets in the capital, Rabat, with "sharia al-Rais Ahmed Sukarno" transformed into "Rue Sukarno".
THE PROCLAMATION
WE THE PEOPLE OF INDONESIA HEREBY DECLARE THE INDEPENDENCE OF INDONESIA. MATTERS WHICH CONCERN THE TRANSFER OF POWER AND OTHER THINGS WILL BE EXECUTED BY CAREFUL MEANS AND IN THE SHORTEST POSSIBLE TIME.
DJAKARTA, 17 AUGUST 1945
IN THE NAME OF THE PEOPLE OF INDONESIA
SOEKARNO—HATTA
"Your current friends may become ex-friends in future, but not with Brothers"
Dirgahayu Republik Indonesia! 66th Independence Day of Republik Indonesia!
CLICK HERE TO WATCH INDONESIAN REVOLUTIONARY WAR
References:
- M. Zein hassan lc. Lt., Dilomasi Revolusi Indonesia di Luar Negeri, Penerbit Bulan Bintang, Jakarta 1980.
- http://eltaher.org